The Agrilaser
Agrilaser Autonomic
®
Fully automated pest control / bird control laser system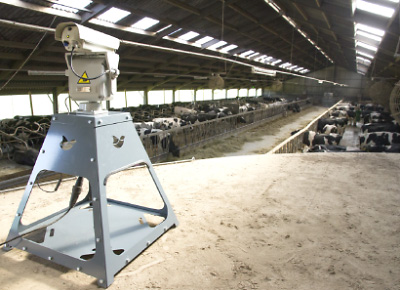 AgriLaser is a fully automated bird control laser system that drives off harmful birds that destroy fields, poultry houses, and ginger. It protects agricultural products, livestock products, farmed fish, fruits, flowers, etc. from harmful birds and is the best product for bird damage control.
Especially, as a bird flu countermeasure, attention is focused worldwide on agrilasers that not only protect the poultry farm but also damage wild birds.
Cost-effective solution
AgriLaser can keep wild birds out of the area throughout the day and night. Once the system is set up, bird control can be continued. It can protect a range of up to 12 square kilometers from the location of the laser. This cost-effective solution reduces bird damage by up to 80% and protects crops and livestock from birds 24 hours a day, 7 days a week.
Effectiveness continues
Damage caused by wild birds amounts to more than several billion yen a year, and crops in the field are ruined. At the airport, it creates a dangerous situation and in the poultry house it causes avian flu. Although spikes and netting are effective, they are very expensive and can ruin the appearance of the building. Many alternatives are inefficient in the long run. The innovative agrilaser technology can cope with wild bird damage and proves to be a sustainable solution.
Birds recognize the laser as an object
Birds are intelligent creatures, so they get used to fear as a general phenomenon. For these reasons, existing bird removal methods have not been effective in the long run, even if they have temporary effects. Birds recognize the approaching laser beam as a physical object, so they can not be accustomed to flying instincts for survival instinct.
Environmentally friendly to animals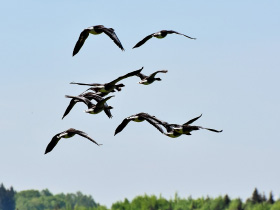 In a world where food, energy and mobility requirements are increasing, effective and long-term bird control is important. Conventional tools such as wirenets, spikes, drugs and repellents are dangerous for animals, inconvenient in the long run, and annoying for the environment. Therefore, this required an innovative way. AgriLaser is designed to control birds without harming animals and the environment, and as a result, it excels in the control of birds while maintaining the safety of both humans and birds.
Where AgriLaser works
Agrilaser protect important farm products, livestock products such as chickens, pigs and cows, farmed fish, fruits and flowers, from the damage of wild birds.

Fields

Chicken farm

Orchard

Petal Farm

Fish farm

airport
Main features of agrilaser
AgriLaser autonomics can protect a range of up to 12 square kilometers from the installation location. Unlike traditional bird protection, birds are not used to agrilaser laser beams.

Agri-laser autonomic has three types of laser output: Autonomic 100, Autonomic 200, and Autonomic 500. It is essential to select the correct model in order to generate a laser projection with sufficient contrast for effective bird dispersion.
There are flexible power options. All systems come with a 100V to 240V AC adapter. If grid power is not available, solar power kits with high quality solar panels, charge controllers and battery boxes are available. This kit is ideal for use on large farms, poultry farms, salmon cages, and other facilities and locations where no main power is available.


Solar charging system
Agrilaser-enabled wild bird types
Most birds respond immediately to the Agrilaser. Agrilaser products effectively reduce nuisance caused by:

Gull

Crow

Dove

Duck

Starling

Swallow

Heron
Products introduction video