Portable Isolater
Portable Isolater (N36-4) Overview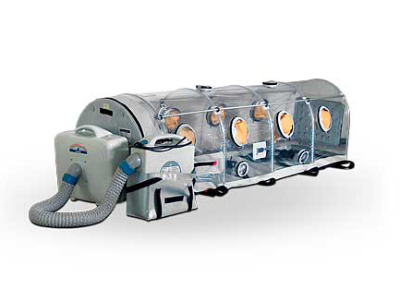 Qucikly isolates and transports patients contaminated with infectious particles
Portable Isolator(N36-4) is an isolator developed to provide temporary isolation before being transported to an isolated area for safe and prompt treatment of patients contaminated by infectious particles or disease.
This product is equipped with a negative pressure filtration system and provides the maximum protection and safety to both the contaminated patients, operational staff and the rescue staffs
Quick set-up
Portable Isolator is assembled and ready for fuse within minutes. The body is made of special material and is reinforced by inserting aluminum poles on both sides. In addition, there are total of 4 belts inside and outside, and when not in use, it can be easily folded and stored in a compact state.
Filters the contaminated air with HEPA filter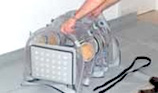 The portable Isolator has an air inlet on one side and on the other side there is a negative pressure filtration system. The contaminated air is collected from inside the portable isolator, cleaned by the HEPA filter and exhausted outside. This protects the safety of not only the contaminated patients but also the operational staff and the rescue staffs.
Double fasteners zipper pouch
Fasteners are attached to many parts of the portable isolator and it enables safe transfer of equipment without spreading the infection. Fasteners can be easily deployed.
Openable and closable insertion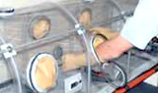 The portable isolator has 4 insertions on both sides which can be opened with fasteners and has gloves attached on each side. It can be operated with the isolator closed. Also, there are 6 small insertions for infusion and catheter insertion.
Battery backup last up to 10 hours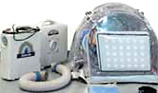 The blower is equipped with a battery backup and can last up to 10 hours without an external power supply(when in full charge)